In the day and age of ultra HD smartphone cameras, it is a crime to be unable to capture big moments. It is also the dilemma of many people when deciding whether or not to hire a videographer in Singapore for events.
Why hire a videographer when people have smartphones that also take videos and images? This article will lay out the reasons why it is worth it to hire a corporate video production in Singapore.
REASON #1: YOU CAN FOCUS ON THE EVENT
It is okay to capture a few moments of the event with your phone, but doing it the entire time is not. You can't; otherwise, you will not be enjoying the event yourself.
Imagine the bride or groom holding their phones to video during the entire wedding ceremony and reception. Will they enjoy their wedding? If you want to focus on mingling with other people and enjoying the food without interruption, let the videographer team in Singapore do the filming for you.
REASON #2: HIGH-QUALITY VIDEOS
Although smartphone cameras are HD, they remain inferior to professional cameras that use various types of lenses. If you want to capture each moment in high-quality footage, let the videographers do the work.
The quality of the videos depends on the video production company. A reputable video production company is equipped with advanced cameras and other filming tools, enhancing the footage.
REASON #3: PROFESSIONAL EYES AND TECHNICAL SKILLS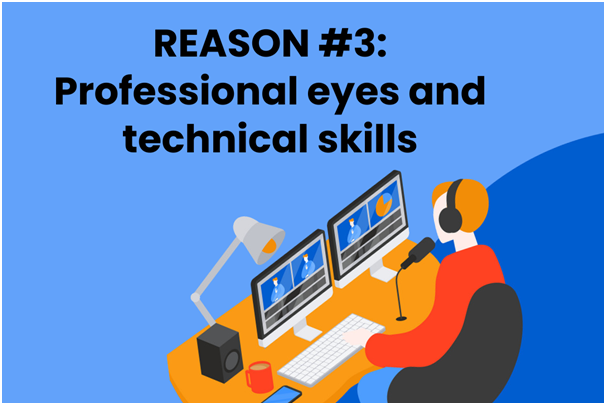 Let us say you indeed have high-quality cameras and lights that produce blemish-free footage. The question is, do you know how to capture the big moments you want?
Video production is trickier than a corporate photo shoot because there are no second takes in an event. You cannot redo the pose to get the best image. Videographers are trained to capture the right moment at the right angle and at perfect timing.
Moreover, professional videographers can also seamlessly apply effects to their videos, which can be difficult for non-professionals.
REASON #4: LIVE STREAMING
We mentioned that professional videographers have the equipment to produce high-quality videos of the event and the skills to capture the right moment and edit them for enhancement. Some video production companies have live streaming services in Singapore, too!
They have the appropriate equipment they can use to broadcast the current happening at the event in real-time on social media or private communication platforms.
The issue with do-it-yourself live streaming is a low-quality video and choppy connection. But with a professional live streaming service, you can guarantee prime live streaming to your audience.
REASON #5: NEVER WORRY ABOUT DEADLINES
If you are an amateur in videography, it may take you a long time to edit your videos and make them look professional. Because videographers are skilled and have the right tools to edit the video, you can ensure that they can meet your video posting deadlines.
Never miss out on an event again and relive it with film-like quality videos with the help of a professional videographer in Singapore.
Vivid Snaps Video Production provides corporate video production and live streaming services in Singapore. Visit Vivid Snaps Video Production today.