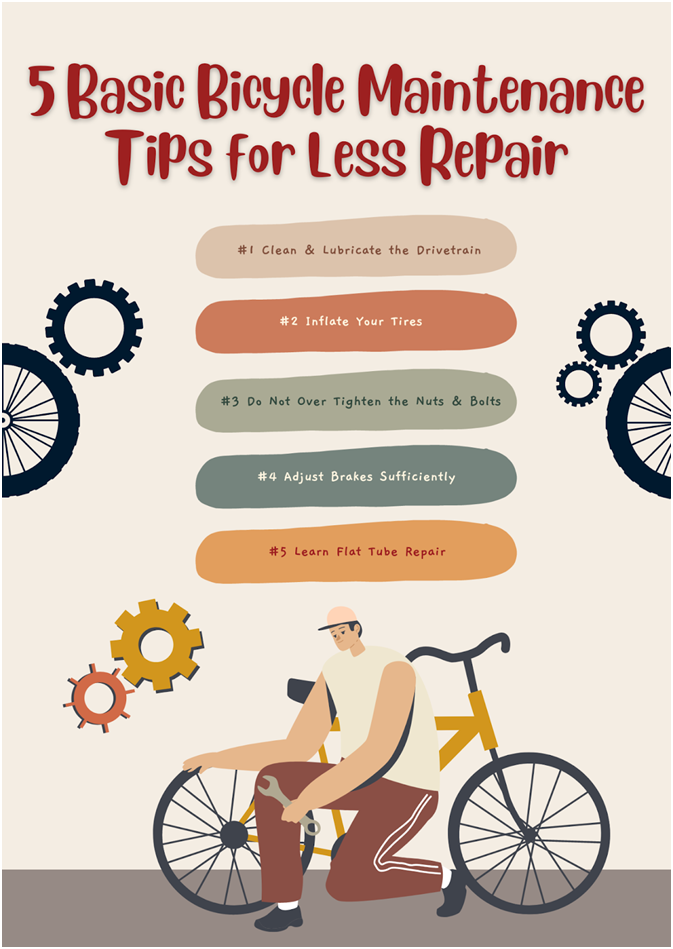 You must maintain your bicycle whether you bought it or rent it. Taking care of your bike will ensure it runs smoothly and at great distances. Here are five fundamental maintenance tips to ensure you spend less on bicycle repair.
#1 Clean & Lubricate the Drivetrain
The rattling and screeching from your bicycle means your drivetrain either has debris, is dirty or is not well lubricated. Regularly remove the gunk from your rear derailleurs' jockey wheels and chainrings before greasing it. All you need is disposable rags, bike oil, a degreaser, and a toothbrush.
#2 Inflate Your Tires
Regularly inflating your tire helps to avoid fractures on the sides of the tyres. It can be cumbersome to repair your bicycle wheels and pay the shop.
#3 Do Not Over Tighten the Nuts & Bolts
Tighten the screws, bolts, and nuts to keep them where they belong. However, over-tightening can be detrimental. The maximum torque restriction is on the packaging of newer bike components. Moreover, you can ask for spare screws, nuts and bolts from your choice of a bicycle repair shop. They do not cost much, and most give them out for free.
#4 Adjust Brakes Sufficiently
Pulling the lever until it touches the handlebar indicates necessary adjustments on your brake pads. The brake pads will press closer to your rim or disc by tightening the screw. You do not need to visit a bicycle repair shop for this.
#5 Learn Flat Tube Repair
A flat tire can also be due to holes in your flat tube. If you see a pattern of flat tires on the same wheel, inspect the tire and the interior of the rim for sharp items or protruding spokes. You can efficiently learn flat tube repair from videos on the internet or by attending a bicycle workshop.
Coastline Leisure is a Singapore-based bicycle, skate, and roller blade rental company. They offer skates and bicycle rentals at their shop throughout East Coast Park and Gardens By The Bay. Discover more about the company and its services by visiting its website.